Summary: This blog covers the difference between OST & PST files & the solution to convert OST file. OST2PST converter is the best way to convert OST2 PST file even the same profile is not available.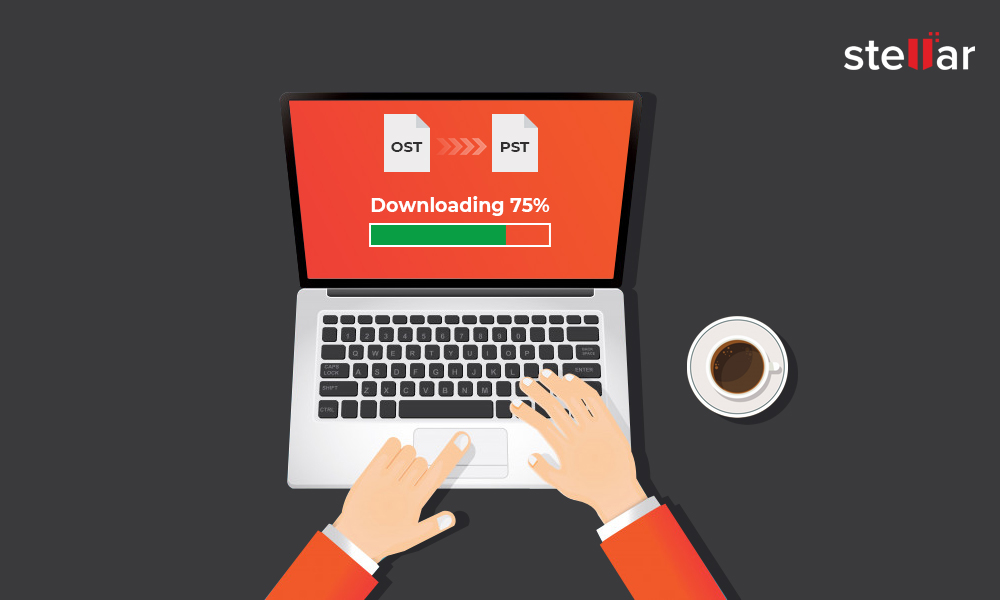 Microsoft Outlook is an incredible tool as it allows you to keep your contacts, emails, attachments, calendar entries, tasks and so much more in one place. It even allows you to work offline, though you cannot send and receive new messages when you are not connected to the Internet. But still, the fact that you can work on existing data and messages greatly enhances your productivity, even when you don't have Internet connectivity.
Outlook does this by using two files – OST and PST. Generally speaking, OST files are those that are directly downloaded from Exchange server while PST files are those files that contain data present in your personal folders.
One key difference between the two files in terms of their use is that OST files cannot be viewed directly in Outlook whereas PST files can be opened directly in Outlook.
"One key difference between the two files in terms of their use is that OST files cannot be viewed directly in Outlook whereas PST files can be opened directly in Outlook."
This is a spot of bother for users because every time they want to access the contents of their OST file, they have to convert it to PST, so it can be viewed in Outlook.
You can make this conversion directly in Outlook, but that it is a little cumbersome and is not possible for people with any level of technical knowledge. A better option is to use third-party OST2PST converter free tools like Stellar Converter for OST.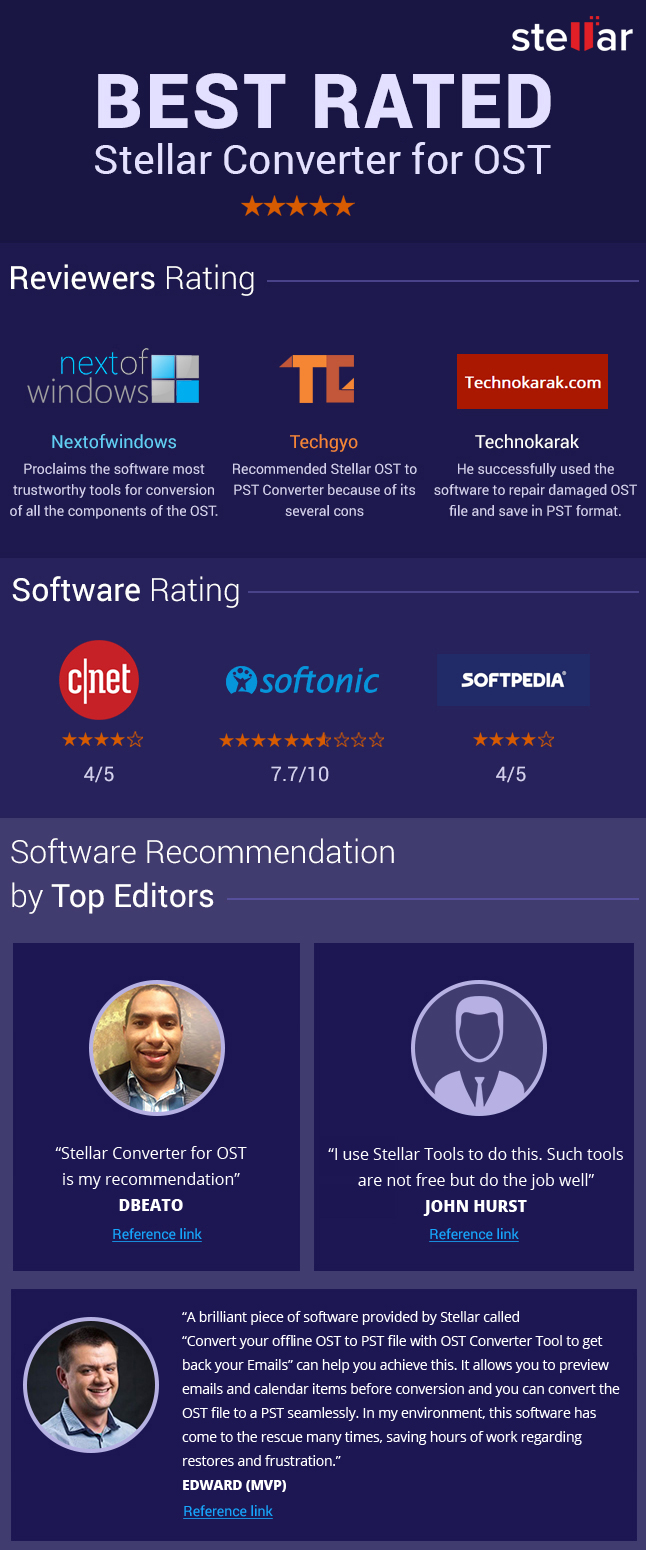 What is Stellar Converter for OST?
As the name suggests, Stellar Converter for OST is a tool that converts OST2PST, including corrupted and inaccessible ones into PST files, so the data can be viewed easily in Outlook. All the individual components present in OST files such as emails, attachments, calendars, journals, tasks, and just about everything else is converted into its equivalent PST format automatically.
# Features of OST2 PST Converter 
Stellar Converter for OST comes loaded with many features, with the most important of them being,
Permits to search and save individual within the same OST data file.
Extract the data from encrypted OST file into accessible PST format.
Saw the preview of email and calendars before actual conversion, this provides more control over the conversion process.
Allow to save the converted emails in, EML, MSG, HTML, RTF & PDF formats
Compatible with MS Office 2019, 2016, 2013,2010,2007,2003,2002 (XP), 2000
Retrieve the Data from deleted emails Items
Let's look through each of these features in a little bit more detail to help you understand why this tool is one of the best OST2PST converter in the industry today.
# Search and save
With this ost2pst conversion tool, you don't have to convert all your data into PST format, even those you know you don't want. Instead, you get to save time and effort and improve your productivity by searching and save individual emails you want within the same OST file.
This way, you can convert only those emails you want and this will be a much quicker process than converting the entire OST file. Remember, OST files tend to be large, typically even a few GBs in size, so this is sure to save precious time, especially if you want only a handful of emails.
# Encrypted OST files
Sometimes, OST files are encrypted as a security measure to prevent unauthorized users from accessing its contents. This is mostly used if any critical information or message has been sent and received by any particular employee.
But what happens if you still want to access its contents? That's where Stellar Converter for OST helps. It can extract data safely even from encrypted files without causing any damage to either the file or the data whatsoever, so you can still access what you want to see.
This scenario is typical when an employee has left an organization or in the case of a legal dispute between an organization and employee with respect to employee fraud or data mishandling.

# Preview 
Before the actual conversion, you get to preview the contents that will be converted.  Obviously, this gives you more control over the process because you can choose what needs to be converted and what is not required.
This will help to save some of your precious time and effort, so you can be more productive throughout the day.
# Multiple formats
One of the key advantages of using OST2PST converter is that it converts the contents of OST file into multiple formats such as EML, MSG, RTF, HTML and PDF.
Again this opens up a lot of options for you in terms of how you want to use these messages. You can even choose the format in which you want the software to save data at the time of conversion itself.
# Corrupted OST files
Sometimes, OST files will get corrupted too, and this may cause you to lose the precious data you have saved offline. In more complex scenarios, it can lead to irrecoverable data loss as well. But the good news is that Stellar Converter for OST can safely extract data even from corrupt OST files, so you can rest assured that there will be no data loss whatsoever when you use this OST2PST tool.
# Recover deleted emails
Deleted emails have a certain lifespan, and this is how Stellar Converter for OST can recover deleted emails too. So, even if an employee has accidentally or on purpose deleted an email, you can retrieve it using this OST2PST converter tool.
# Supports all versions
Stellar Converter for OST supports all Microsoft Outlook versions such as 2019, 2016, 2013, 2010, 2007, 2003, 2002 (XP), 2000. Again, this feature gives you the flexibility to use OST2PST converter, regardless of the version of Outlook you're using.
In addition to all these features, the first 20 emails are converted for free in every folder.
With such flexible options, it is no brainer that Stellar Converter for OST is the best tool available today to convert data from your OST2PST file format.
According to Microsoft MVPs, Stellar Converter for OST is the best way to convert OST2PST file. For MVP reviews, you can check this link; Click Here.
Note:
Users should avoid any crack serial key of OST2 converter. According to Cyber experts, any freeware or crack version of the tool can damage your sensitive data and responsible for security breaches. To support a better decision-making system, we are already providing 20 items/folder in a free demo without sharing any details (Credit Card/Email ID/ Contact).