Summary: This post covers the differences between OST & PST files & introduces an ideal OST2PST converter tool. It also shares the key features of the recommended OST2PST converter.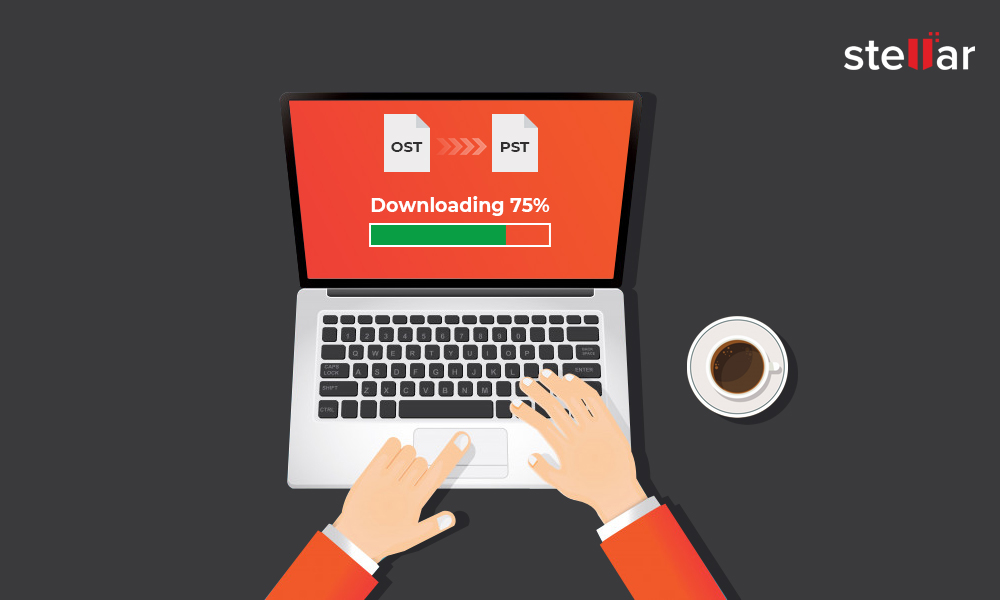 Microsoft Outlook is an incredible tool as it allows you to keep your contacts, emails, attachments, calendar entries, tasks and so much more in one place. It does this by using two types of files – OST and PST.
Outlook uses OST file as a replica of your Exchange mailbox. It stores this file on your local system and updates it regularly to reflect the changes in your Exchange mailbox. The OST file allows you to access your mailbox when connection to Exchange Server isn't possible or when you are offline. A PST file, on the other hand, is an Outlook file that stores your mailbox data when your Outlook is configured with POP account. The PST file is also used for creating backups of your mailbox and transferring the mailbox to different systems.  
One key difference between the two Outlook files, in terms of use, is that OST files cannot be opened directly in Outlook whereas PST files can be opened directly in Outlook. So, if you want to access an OST file, you need to convert it into PST first.
Usually, you don't need to convert an OST file into PST as OST is simply a copy of your Exchange mailbox. However, you may face some situations when you need to convert the OST file into Outlook importable PST format. For instance, if your Exchange account is deleted, you can't access Outlook, or if the OST file has certain "local-only" items, then you have to convert the OST file into PST to access its items.
Now that you know the scenarios in which you need to convert OST into PST, it raises the question – how do you perform the conversion? Well, the safest and easiest way to perform OST2PST conversion is by using a third-party OST2PST converter tool such as Stellar Converter for OST.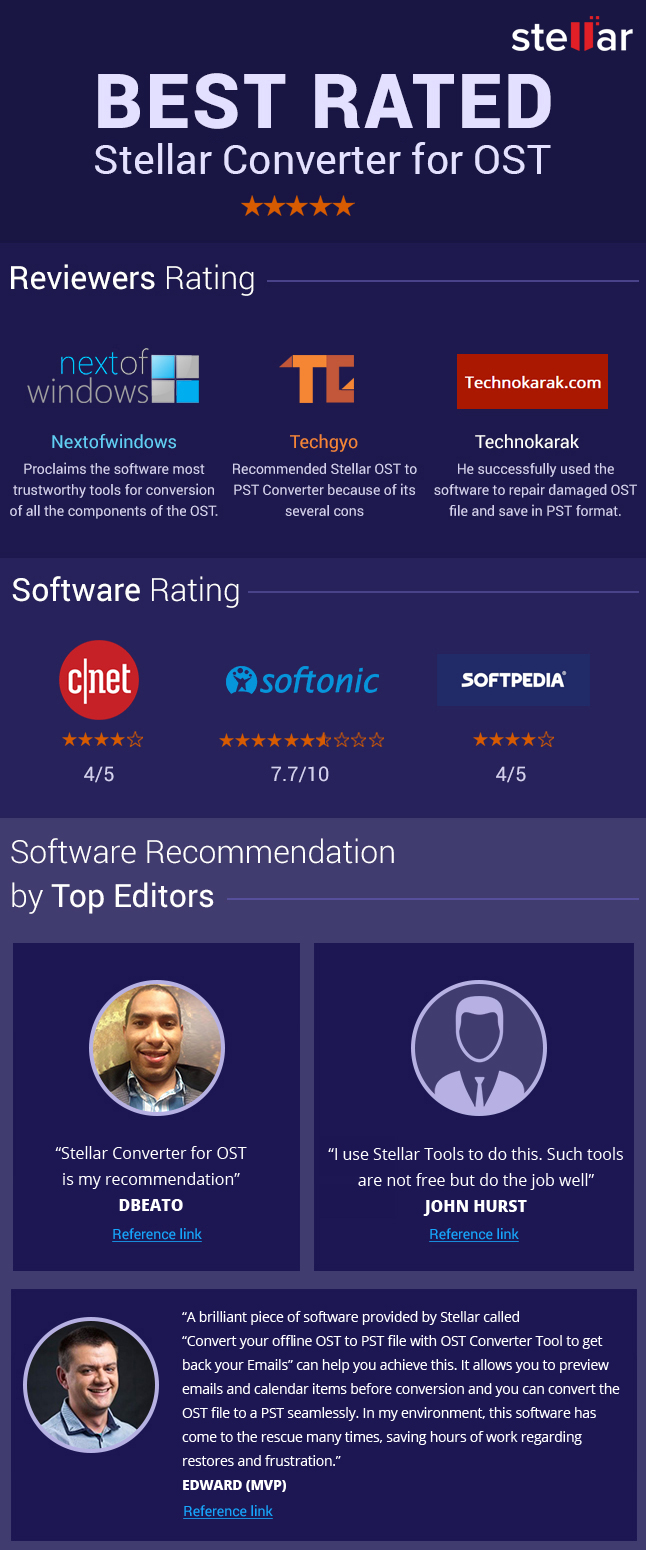 Why Stellar Converter for OST?
Stellar Converter for OST is an OST2PST converter tool that can convert even orphaned or inaccessible OST files into PST. This powerful software can convert all items in the OST file such as emails, attachments, calendars, journals, tasks, etc. into PST. In addition, it can even extract deleted email items from OST file and convert them into PST.
# Features of OST2 PST Converter 
Stellar Converter for OST has many useful features such as:
Allows selective conversion so you don't have to convert the entire OST file into PST
Can extract data from an encrypted OST file and convert it into an accessible PST file
Offers preview of emails, tasks, and calendars before conversion so you have more control over the conversion process
Allows to save converted emails in different formats such as EML, MSG, HTML, RTF & PDF
Compatible with MS Outlook 2019, 2016, 2013, 2010, 2007, 2003, 2002 (XP), 2000
Retrieves data from deleted emails items
Stellar Converter for OST Technician is an advanced version of the software. It offers additional features such as:
Compacts and splits large OST files to prevent data loss and enable easy data management
Exports OST files directly to Exchange Server, Outlook and Office 365
Saves the converted file in DBX, MBOX, MSG, EML, RTF, HTML, & PDF formats
Exports contacts to CSV format
Converts multiple OST files into PST in batches
Let's look at these features in detail to help you understand why Stellar Converter for OST is the best option for OST conversion in the industry today:
# Search and save
With Stellar OST2PST conversion tool, you don't have to convert all the OST data into PST. You can search and select individual emails that you actually want to convert into PST. Remember, OST files can be quite large (typically a few GBs in size). So, this selective conversion feature can be useful, especially if you want to extract only a handful of emails from an OST file.
# Convert Encrypted OST files
Sometimes, OST files are encrypted to prevent unauthorized access. Stellar Converter for OST can extract data, even from encrypted files with safety.

# Preview 
OST2PST Converter by Stellar allows you to preview the contents in an OST file before saving. So, you can choose what to save and what not to save.
# Multiple formats
One of the key advantages of using OST2PST converter by Stellar is that it converts the contents of OST file into multiple formats such as EML, MSG, RTF, HTML and PDF. If you are using Stellar Converter for OST Technician, you can also export OST directly to Office 365 and live Exchange Server.
# Recover deleted emails
Even if someone has accidentally or purposefully deleted an email in an OST mailbox, you can retrieve it by using the OST2PST converter tool.
# Supports all versions
Stellar Converter for OST supports all Microsoft Outlook versions: 2019, 2016, 2013, 2010, 2007, 2003, 2002 (XP), & 2000.
Verdict
Considering the impressive features offered by Stellar's OST Converter, it's not hard to see why this software is highly recommended by both general users and experts.
Stellar Converter for OST is a safe and intuitive software that allows OST to PST conversion through a simple and easy process. Most importantly, you can convert up to 20 items per folder for free in the demo version. This helps you to get a better understanding of the product's functionality and efficiency, before going for the full software version.
According to Microsoft MVPs, Stellar Converter for OST is the best way to convert OST2PST file.