Summary: Both OST and PST are Outlook data files. While you can open or import a PST file in any Outlook profile, Exchange, or Office 365 account, OST file can be synced through a linked profile only. Plus, OST can't be imported to other Outlook, Exchange or Office 365 profiles. Thus, in this guide, we shared a few methods to convert OST to PST online and recover lost or deleted mailbox items from an OST file.
As an Outlook user, you may need to convert OST to PST online for various reasons, such as to archive or backup mailbox, migration, or reduce the size of OST file. OST to PST conversion can also help you recover deleted email items and move OST data when the profile is accidentally deleted from Exchange. Sometimes, you may need to import or open the mailbox items from an OST file that belongs to a deleted or disabled Outlook profile. Such OST files are referred to as orphaned OST files.
Thus, if you want to access orphaned or active OST file on another Outlook, Exchange or Office 365 account, it's important to convert the file to PST.
While you can export Outlook mailbox items to PST from your active Outlook account via Import Export Wizard, you cannot access, open or import an orphaned OST file due to the MAPI encryption. In such cases, you need an advanced software such as Stellar Converter for OST to convert Exchange OST file to PST. The software supports all Outlook versions & facilitates the Batch OST Conversion process to convert multiple OST files to PSTs.
Instant Fix: Orphaned OST files can't be converted into PST manually. Use advanced and highly-recommended OST to PST Converter to convert orphaned OST into PST. You can use the software to convert OST into other formats too and import converted OST file in an existing Office 365 account. It's safe, simple, and more effective than the manual solution.

Methods to Convert OST to PST online
There are two methods to convert OST to PST,

Use Outlook Options (Manual Method)
Use OST to PST Converter Software (Automated Method)
Though the manual method to convert OST to PST works effectively, it has a few limitations which are discussed below,
Can't convert orphaned OST file to PST
Requires active Outlook Account and access to Import Export Wizard/Archive option
May lead to data loss as it skips damaged and deleted mailbox items from the OST during export
Does not recover deleted email items
No option to split large PST files
However, you can overcome these limitations and even recover deleted or lost mailbox items by converting OST to PST by using Stellar Converter for OST software. Below we have discussed both methods to convert OST to PST online.
Method 1: Convert OST to PST via Outlook Options
You can convert OST to PST by using various Outlook options, if the Outlook profile is active and the OST file is accessible. The steps are as follows,
Export OST Data to New PST via Import/Export Wizard
Outlook Import Export Wizard allows users to convert OST file into PST format. The steps to export OST mailbox data to a New PST are as follows,
Open Microsoft Outlook and navigate to File> Open & Import and select Import/Export option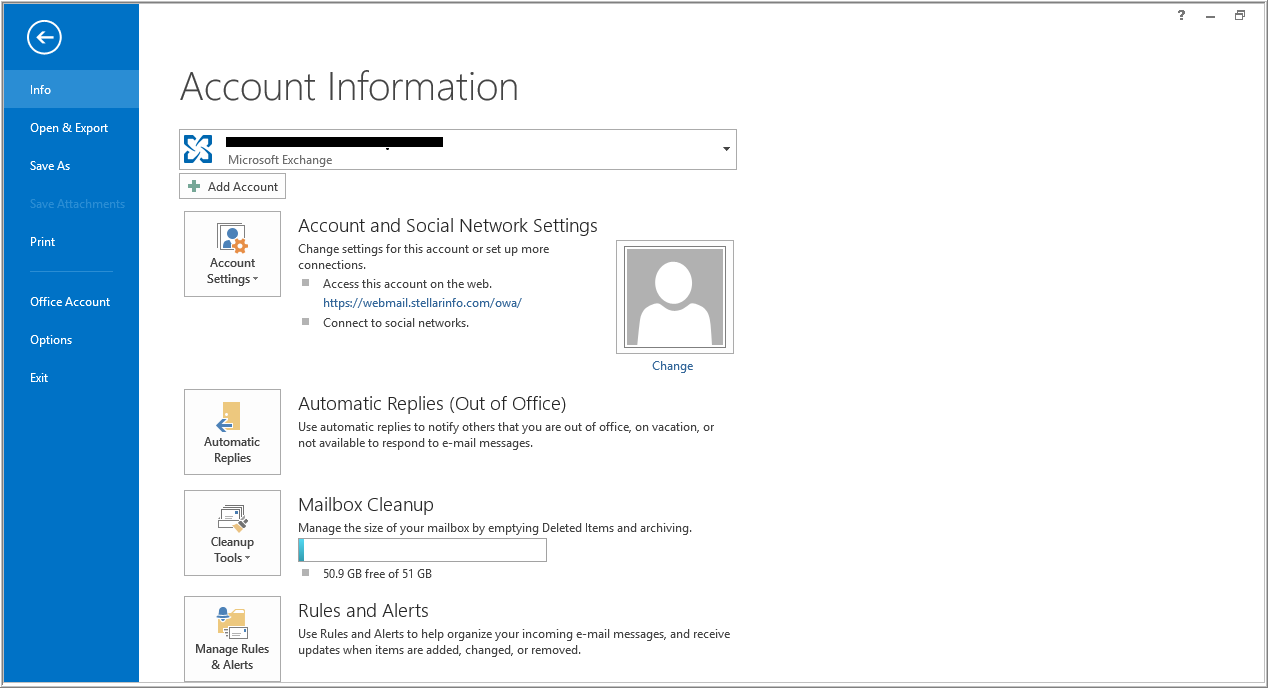 Select Export to a file and then click Next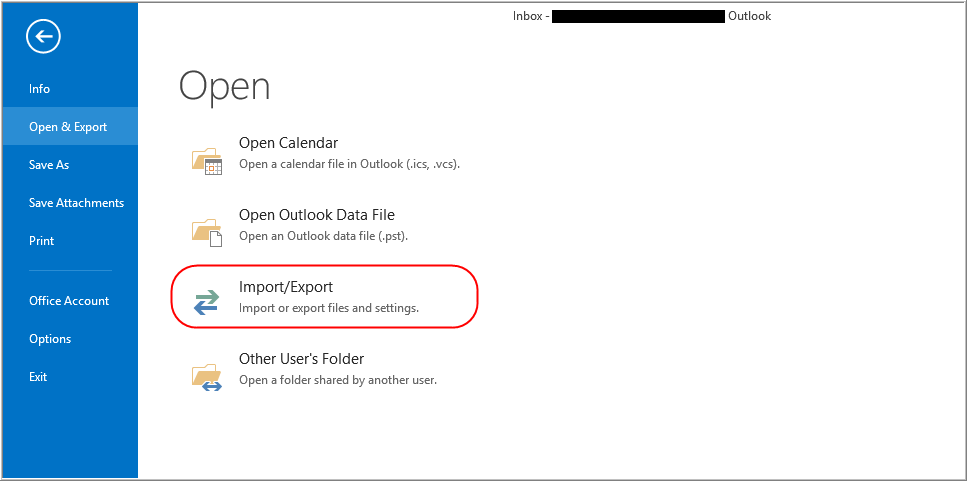 Select Outlook Data File (.PST) from the given options and click Next to continue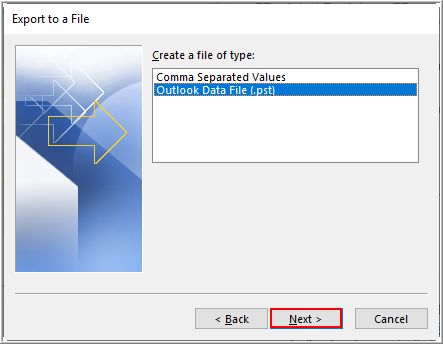 Select the mailbox items to export to PST and then click Next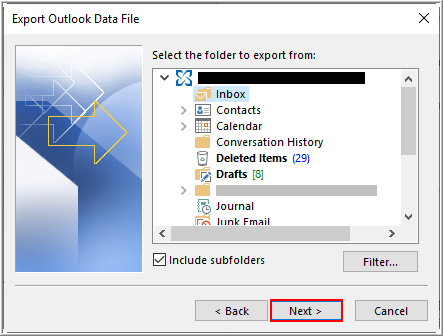 Click 'Browse' to change the location and name of the PST file, if required. Click 'Next'
Select the checkbox for 'Do not copy duplicate items', followed by Finish button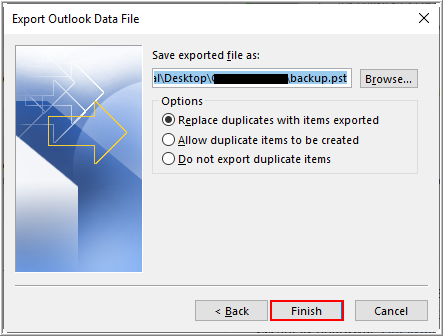 You will get a prompt for password, click 'OK' to convert OST to PST online and save it at your desired location
Pros
Converts Contacts folder in the accessible format
Quick and easy conversion process
Cons:
Does not save damaged or deleted mail items in PST file
Creates a single large PST file which may get corrupt due to integrity issues
Does not convert orphaned OST to PST
Archive OST Data to PST
In Microsoft Outlook, there is an option to archive mailbox data into PST file. This feature helps you to move all mailbox items from OST, except 'Contacts', to a PST file.
Steps to archive OST mailbox data to PST,
In Microsoft Outlook, go to File>Info and click on Cleanup Tools
From the drop-down options, select Archive
Select 'Archive this folder and all subfolders' checkbox and also select the folders which you want to move to PST file
You may also select the Date from which items need to be archived. This option is available in the 'Archive Items Older than' option. The date should not be earlier than that of Outlook configuration
Once the items are selected, browse for a location to save these selected items in PST file format
Name this PST file and click OK to finish the process
After saving, verify if the PST file is saved at the preferred location and contains mailbox items you need
Pros:
An effective way to convert OST to PST online for Outlook emails
Cons:
Archiving mailbox content doesn't result in complete restoration, as 'Contacts' data is not available in converted PST file
May result in data loss if old items are not available in the archived folder
A database cannot be verified for completeness
Method 2: Convert OST to PST Online Via Professional OST to PST Converter
An OST to PST Converter software such as Stellar Converter for OST converts all mailbox components of the OST file into PST format with 100% integrity in a few clicks at your preferred location. It also converts orphaned OST file and recovers deleted mailbox items.

Further, it provides advance saving options which allow you to reduce the PST file size and prevent it from the potential risk of corruption. You can either split and save the converted OST file in multiple PSTs or compact the PST file size by compressing the attachments or storing them in a separate folder as linked attachments.
The steps to convert OST to PST via Stellar Converter for OST are as follows,
Install and launch Stellar Converter for OST software and select OST file. You can choose and download either Corporate or Technician edition
Click on the Convert button to start the conversion process
After the scan, the software displays preview of the mailbox items, such as emails, contacts, calendars, notes, journals, etc.
Select the mailbox items you want to save in PST file and click the Save button in the main menu
Select PST format and then browse the save location. Also, provide a name to PST file
Click 'OK' to start saving the file
Pros
Converts active as well as orphaned OST file to PST, with all mail components
Converts multiple OST files quickly and saves in corresponding PST files (Technician version)
Faster OST to PST conversion with Unicode support
Previews mailbox items after conversion for precise OST to PST conversion
Also provides an option to save converted OST file to other formats and Live Exchange, Office 365 or existing Outlook profile (Technician version)
Cons:
You need to activate the software to save entire OST items in the PST
Conclusion
Outlook provides options such as archive or import-export wizard to convert and save OST to PST. However, these options work only if the Outlook and OST are accessible. If you have an orphaned OST file or need to convert a large OST file to PST without the risk of data loss or PST file corruption, it's better to use an OST to PST converter software such as Stellar Converter for OST.
This professional software is the most feasible option to convert OST to PST online, migrate mailbox items from one outlook account to other, or backup Outlook emails. It can locate the OST file automatically within the drives and converts it into an accessible PST.
This software helps resolve those issues where Outlook users get stuck due to exchange-related errors and allows users to restore their email account without losing a single email item. You can download the free demo version and try it yourself.