The OST file in Microsoft Outlook is rendered inaccessible due to the issues on Exchange server or when the user tries to migrate data from one system to another. Due to these factors, the routine corporate communications, using emails and other mail components, come to a standstill through this Outlook email client.  
Online Solution: Try Stellar Converter for OST to convert Exchange OST file to PST easily. Supports latest Outlook versions Outlook 2019, 2016 & Batch Conversion process.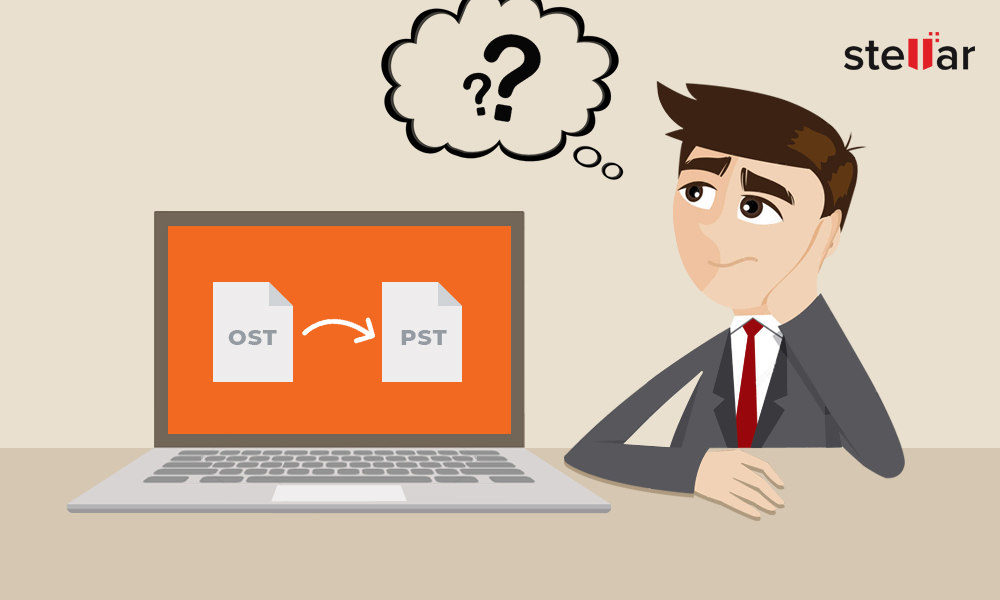 Therefore, it's recommended to convert these OST files into PST file format and import them into the newly configured Outlook email client. Though manual methods of OST file-conversion are excellent, these are associated with their own set of limitations. In case these methods are not competitive enough, and OST does not yield the best results after PST conversion, it may lead to improper communications.
This article presents the specific causes of this Outlook error and the manual and professional methods for OST to PST converter online.
In some cases, users are unable to access Outlook email client; then it becomes necessary to convert OST2PST file and access Outlook data. The primary reasons why users have to opt for OST to PST online conversion are:
Inaccessibility due to a server crash or database inaccessibility.
Data Migration
Data Recovery
A problem well-stated is a problem half-resolved. Similarly, when an Outlook Administrator is aware of the exact cause of the error, then the issue is resolved with ease. Let's understand the probable reasons for OST to PST file conversion in detail:
Exchange Server inaccessible:
Sudden power failure, software malfunctioning, other similar reasons lead to the accidental breakdown of Microsoft Exchange server. Then the Outlook users are unable to access their mailbox data. Converting OST to PST file ensures data accessibility, once the Exchange is up and running.
A scheduled maintenance activity for Exchange server requires downtime. Exchange Administrators shut down the server to carry out successful maintenance of Exchange server. During this period, the Exchange database on that server is not accessible. And if the maintenance activity is not completed within the stipulated time-span, then there is a problem.
Data Migration:
Organization shifts from one location to another, then data migration becomes essential. Also, in cases, where the user shifts from one system to another. In both cases, there is a need for OST to PST conversion as OST opens only on that system where it is created initially.
Data Recovery:
Data of all the previous employees is deleted from the server. If there is a need for some data, then it can be retrieved by the user's system. However, this is possible only when the system is not formatted, and OST file is available on the system. In that case, OST to PST Conversion helps in accessing the Outlook data.
Archive Data
Export Data to new PST
Professional OST to PST Converter
Before using any of these methods, check for the following:
Use the same system in which the OST file is available
Outlook is connected to Microsoft Exchange
OST files are free from any corruption. Corrupt OST files cannot be opened.
Let's check the three methodologies and their pros and cons:
Archive Data
In Microsoft Outlook, there is an option to archive mailbox data into PST file with the help of Cleanup Tools. This feature helps you to move all mailbox items, except 'Contacts'.
Follow the below mentioned steps to archive mailbox data to PST:
In Microsoft Outlook, go to the Main menu and click File tab followed by Info
Select Cleanup Tools and from the drop-down menu, click on Archive
Checkbox for 'Archive this folder and all subfolders'. Select the folders which you want to move to PST file and select the Date from which items need to be archived. This option is available in 'Archive Items Older than' option. The date should not be earlier than that of Outlook configuration.
Once the items are archived, browse for a location to save these items in PST file format. Name this PST file and click ok to conclude the process.
Verify if the PST file is saved at a preferred location and it contains all components.
Note: In Outlook 2013 and further, 'Online Archive' feature helps to archive Microsoft Outlook data.
Pros:
An effective way to convert OST to PST online for Outlook emails
Cons:
Archiving mailbox content doesn't result in complete restoration, as 'Contacts' data is not available in converted PST file
May result in data loss if old items are not available in the archived folder
A database cannot be verified for completeness
Export Data to New PST
Export to a PST method allows users to convert OST file into PST format. This also includes saving the Contacts in CSV or Excel format.
Follow the below mentioned steps to export mailbox data to a New PST:
Open Microsoft Outlook. Click on the Main Go to File à Open à Import options
The Import and Export Wizard pops up. Select Export to a file from the given options, followed by Next button
Select Outlook Data File (.PST) from the given options, followed by Next to continue
The location of the PST file is displayed in the box for 'Save exported file as'. Change the location and name of the PST file, if required
Checkbox for 'Do not copy duplicate items; followed by Finish button
The process of converting OST to PST online is complete. Verify PST file components.
Pros:
Converts Contacts folder in the accessible format
The quick and easy conversion process
Cons:
Not as effective as Archiving method
Professional OST to PST Converter
 Stellar Converter for OST is one of the most performing OST to PST Converter software which converts all components of OST file into PST format in few simple steps and saves this PST at the preferred location.
Open software and select OST file
Click on the Scan button, and the software displays a preview of the scanned file data
Verify the components in all folders including emails, contacts, calendars, journals and more
Go to the main menu and click the Save button. Select PST file location to save all components of OST file into PST format
Pros
Converts and saves all components
Allows easy selection of OST file in case more than one OST is present
Ensures fast and easy recovery
Allows users to verify the OST file components before final saving
Cons:
The software is not available along with Microsoft Outlook
Conclusion
A detailed analysis of three methodologies leads to the following inference:
Archiving is a good option, but it is time taking. Moreover, contacts are not saved in the converted file
Exporting is not an efficient method to convert OST to PST online
Professional Stellar software ensures conversion of the entire content of OST file into PST format without limitations
This professional software is the most feasible option to convert OST to PST online. This software locates the OST file within the drives and converts it into an accessible PST. Secondly, this software helps to resolve those issues where Outlook users get stuck due to Exchange-related errors. Stellar Converter for OST converts the OST file into PST format and ensures uninterrupted business communication.