Summary: If you are confused between the two popular email clients, Lotus Notes and Outlook, read this detailed blog on Lotus Notes vs Outlook to learn which one is better and suitable for your corporate needs.
Both Lotus Notes and Outlook are popular email client apps for corporate and business users that facilitates secure business communications through emails and chat. However, both have their advantages and disadvantages over another, which makes it difficult for the users to choose between the two.
After reading this informative blog, you will learn the facts and comparison between Lotus Notes and Outlook, which will help you choose the best email client and email service according to your needs.
NOTE: IBM Notes and IBM Domino are now HCL Notes and HCL Domino. The terms are used interchangeably in this post for relevance.
Difference between IBM Lotus Notes and Microsoft Outlook
Below is the detailed comparative analysis between the two email applications to help you judge the better one for your business needs.
User Experience
Microsoft Outlook and Lotus Notes, both offers tools and options for a collaborative workspace. To use Lotus Notes, one requires basic training and technical understanding.
However, Outlook offers much better and rich graphical user interface when compared to HCL Notes, formerly known as IBM Lotus Notes.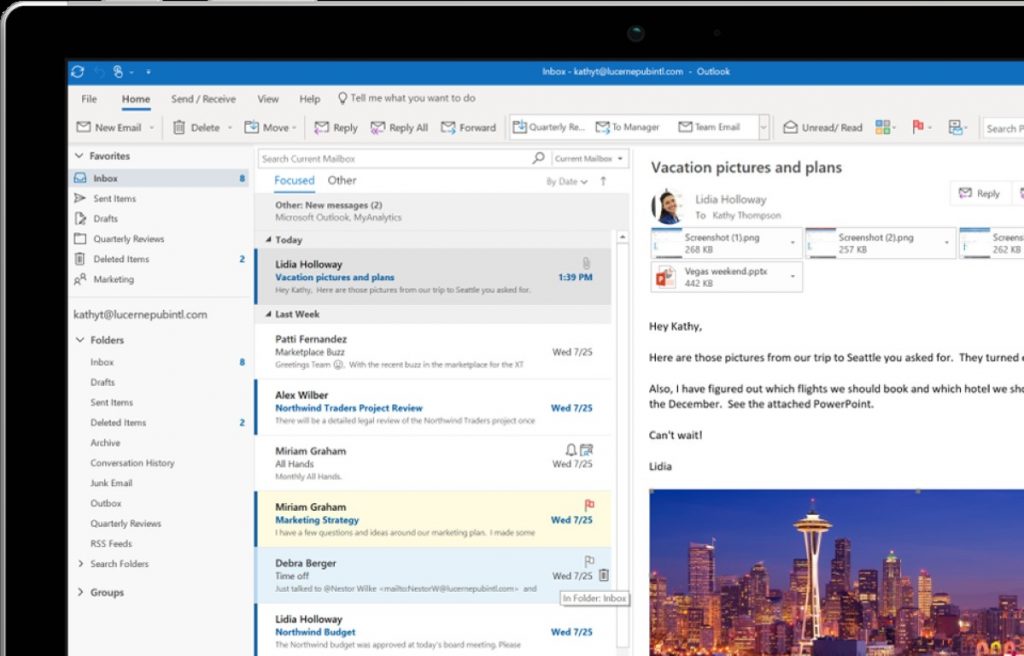 Outlook is relatively easy to use even if you have never used it. Since Outlook integrates with the Windows operating system and other Microsoft products such as MS Word, Excel, etc., it provides a unique user experience that Lotus Notes cannot.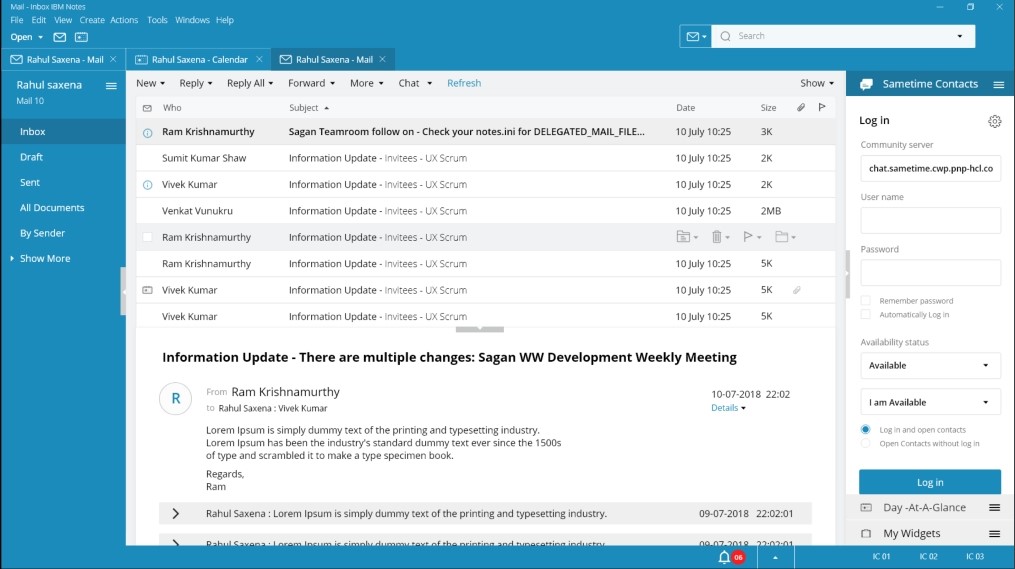 Outlook users can access their mail account by using the Outlook desktop application or Outlook web app or OWA. The experience is somewhat similar. However, IBM Notes isn't efficient in a web browser as the application is heavy and takes time to load.
Implementation
HCL Notes /Domino and Exchange for Outlook are easy to implement with the help of detailed documentation on their support page. However, compared to Outlook Exchange, IBM Lotus Notes and Domino are heavier on the cost side.
Unlike IBM Notes, you can set up an on-premise Exchange server for Outlook, which gives you complete control over the Exchange server. Alternatively, you can also deploy online Exchange with Outlook 365 to avoid stressful server and security management tasks.
Microsoft also provides an option to deploy a hybrid Exchange environment which integrates on-premise and Office 365 for a feature-rich experience and efficient admin control.
Mailbox Security
IBM Lotus Notes and IBM Domino (now HCL Notes and HCL Domino) uses NoSQL, a nonrelational distributed database technology to store mailbox data. It's scalable and can store several thousand users. However, to manage and secure this database, it requires good technical expertise in nonrelational database management.
MS Outlook mailboxes are stored on the Exchange Server in Exchange database file that makes the use of Active Directory Services. The mails are synced between the local Outlook data file (OST or PST) and server mailbox through MAPI protocol, which allows users to access and use Outlook while offline. You can also enable 128-bit RPC encryption in Outlook user profile.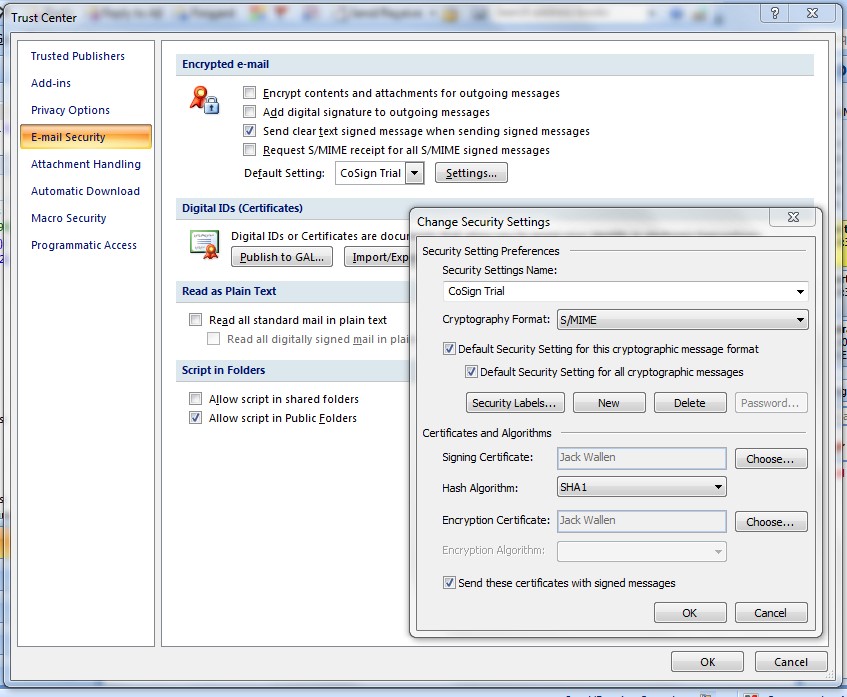 Maintenance and Migration
Lotus Notes stores every information is NSF (Notes Storage Facility) file in the Domino database. Each note is assigned a unique ID. However, it also stores other types of notes, which makes it complex to access and manage the NSF mailbox items.
On the other hand, MS Outlook stores mailbox items in OST or PST file format, which makes it easier to manage and accessible by an authorized user. And unlike IBM Notes, Outlook users can also backup or migrate their mailboxes from one account to another with Outlook Import/Export wizard. The wizard exports the Outlook mailbox into PST format which is widely supported.
While IBM Lotus Note doesn't offer such built-in option, one can use a third-party tool such as Stellar Converter for NSF to convert their IBM Lotus Notes (NSF) files to PST or RTF, PDF & HTML Formats. So if you already use Lotus Notes for an email in your organization and want to move to Outlook, this software can help you migrate all mailboxes in your organization to Outlook or Outlook 365 directly (Tech Version).
.
Multiple Email Accounts
For Lotus Notes users, there is a restriction of one account. A user cannot add multiple accounts in their IBM Notes client at a time. But if you use MS Outlook email client, you can add and access multiple email accounts for a single user at a time. You can add an IMPA, POP3, Exchange or Office 365 account and access them all at the same time.

Operating System Support
Lotus Notes supports Windows, macOS, and Linux. However, MS Outlook is best compatible with Windows and macOS operating system. If your organization also uses Linux OS, it's better to go with the Lotus Notes for a more collaborative workspace between users.

Wrap-Up
Overall, Outlook is the market winner with a majority of corporate users. Lotus Notes has its own set of clients who love to use it in the corporate sector due to its security and scalability features, which are now also available with Office 365.
There are various custom features in Lotus Notes and NoSQL is the biggest plus point from security and scalability aspects. But it's a bit tough to work on for a new user and calls for proper training. Also, Lotus Notes costs more.
If you are already on Lotus Notes and considering to move to Outlook, you will require a professional Lotus Notes to Outlook Converter tool to migrate mailbox items such as emails, notes, calendar etc. from IBM Lotus Notes to Microsoft Outlook.