The widespread popularity of MS Outlook is making Outlook a preferred application for other email client users. The IBM Lotus Notes supports NSF file format, and MS Outlook supports PST file format. To shift from Lotus to Outlook, you need to convert your emails from one storage file format to another. There are two ways to migrate the NSF files to PST format – either use a manual procedure for conversion which may or may not result in complete mailbox conversion as there may be an issue of exporting Large Sized NSF to PST. Deploy reliable professional software.
Export Lotus Notes emails with inbuilt utility
Microsoft Transport Suite
NSF to PST Converter software
Export Lotus Mails with inbuilt utility
Follow the steps to export Lotus Notes mails
The NSF files are available in Lotus Notes email application on the system. Click on Open button, available on the user interface of the application and load the NSF file
Click on File button and select the Export option to open the Export Wizard option
Select the type of file to export. There is an option to choose a comma-separated value or Structured text from the Save as Type from the 'Drop-down '
Name the file and click on Export button. Structured text Export or CSV Export Window appears. Click on the preferred option.
You can import this file into MS Outlook to access the data contained in NSF file
 Drawbacks:
Not possible to export sizeable sized NSF to PST
The manual method may affect the actual formatting of the data as well as the email structure
Microsoft Transport Suite
Microsoft Transport Suite is a Microsoft provided free utility tool which helps in migrating NSF files to PST format. The Add Mailboxes button helps in migrating mailboxes directly to the Exchange server.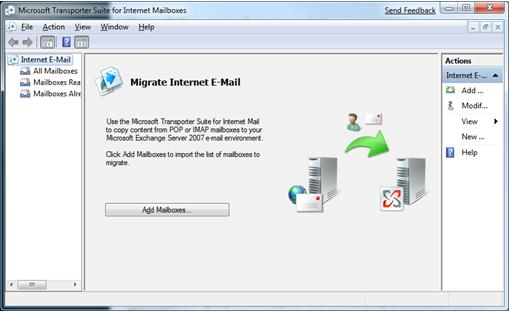 There are certain drawbacks attached to migrating with Microsoft Transport Suite:
Unable to export large sized NSF to PST. Microsoft tool cannot migrate Lotus Notes mailbox, having a size of more than 1GB
If the Lotus Notes mail folder consists of more than 1500 mails, then the software is unable to transfer such mailboxes
In many cases, email attachments are not migrated
Following messages are displayed when you export Large Sized NSF to PST:
Maximum request length exceeded
The message migrates without attachments
Suppose an NSF file is more than 4 GB, then this file cannot be migrated, and the utility displays an error message, and this is the reason that Microsoft Transport Suite is not considered an ideal tool for NSF to PST migration.
Owing to these drawbacks, IT Experts recommend a professional software like Stellar Converter for NSF to migrate Lotus Notes NSF files to MS Outlook PST files. The software is suitable for export Large Sized NSF to PST.
How Stellar Converter for NSF software works?
You can use Stellar Converter for NSF software to convert Lotus Notes to Outlook components with the help of following steps:
Select or Find NSF file
Click on Start button to start the process
You have an option to preview and verify converted file components
Click on Save button to save the file. The software displays three different options to save the file. Click on the preferred option to save the file:

Append data to existing PST file
Save data to existing PST file
Create a new PST file

Conversion Successful message confirms that the process is complete
Advantages of using professional converter software:
Needs almost minimum system requirements to launch the software
Successfully converts all NSF files into PST format
DIY software has an interactive user interface to conduct the conversion process easily
Finds the NSF file if the location is not known
Preview file helps in data verification
Exports sizeable sized NSF to PST
Saves file in the preferred format
Conclusion
Stellar Converter for NSF provides a one-stop solution to convert the NSF file to PST file and solves the issues of exporting large sized NSF to PST. Manual solutions have limitations of converting file size up to a size limit, but the professional software ensures the conversion of all NSF files to PST irrespective of file size.