Summary: Lotus Notes is a secure email client, however, it lacks new features that are available in MS Outlook. This guide helps you open and read NSF files in MS Outlook 2010, 2013, 2016, 2019, and Office 365. It also helps you migrate and open NSF files in Outlook by using NSF to PST converter software.

IBM Lotus Notes and Microsoft Outlook have always been at loggerheads to grab the position of the most coveted emailing client. Though both have their high and low points, when it comes to numbers, Outlook's customer base is larger than that of Notes. And it continues to grow with more and more Lotus Notes users migrating to Outlook owing to 3 major benefits the latter platform has to offer,
User Friendliness
Easier Data Management
Better Security Features
However, both email clients store email files in different formats. Lotus Notes saves the data in NSF format while Outlook supports PST, EML, MSG, and CSV format. Thus, NSF files can't be opened in MS Outlook directly.
Methods to Open NSF Files in Outlook
The primary challenge involved in any migration project is the difference between file formats used by the source and destination. This case is no exception. All mailing clients use some kind of data file to save all mailbox information like emails, contact, journals, calendar items, etc. Lotus Notes uses the NSF format (Notes Storage Format) for this purpose and Outlook uses PST (Personal Storage Table) and OST (Offline Storage Table).
Thus, to open and read NSF files in Outlook, you must convert the NSF files to Outlook data files, such as PST or CSV. This can be done through two different methods that we have discussed in this guide.
Manual Method: Through the Lotus Notes CSV Export Wizard
Automatic Method: Through a third-party tool, Stellar Converter for NSF that converts NSF data to PST making it readable in MS Outlook.
Method 1: Use Export Wizard in IBM Lotus Notes
This procedure is divided into two different steps. First, you need to export the NSF data to CSV format and then import the CSV file to Outlook through Import/Export Wizard. The steps are as follows,
Step 1: Export NSF Emails to CSV File
To export NSF emails to CSV file,
Quit all running applications and then launch Lotus Notes.
Choose the emails you wish to export to Outlook.
Select 'Comma Separated Value' from 'Save as type'.
Once the NSF data is exported to CSV, you can import it into your MS Outlook account to read NSF files.
Step 2: Import CSV into Outlook to Open and Read NSF Files
The steps to import CSV in MS Outlook are as follows,
Launch Microsoft Outlook and go to File > Open > Import. An Import and Export Wizard will appear.
Select Import from another program or file and click Next
Choose Comma Separated Values and click 'Next'.
Click 'Browse' to select the CSV file that you exported earlier. Also, choose the desired option and then click 'Next'.
In 'Select destination folder', choose the email folder where you want to import the CSV data and click 'Next'.
Finally, click 'Finish' to start importing the CSV file that contains NSF data.
Once the import is finished, you can open, view, and read NSF files in Outlook. However, you may not find all the mails and there could be formatting issues and other problems with CSV imported data, such as,
Data inconsistency and integrity issue
CSV export does not export other mailbox items, such as contacts, journals, tasks, notes, etc.
Loss of emails from imported files due to missing header information
It involves too many steps and consumes a lot of time
Not everyone can perform this since you need access to both email clients.
But you can easily overcome these issues by following Method 2.
Method 2: Convert NSF to PST File by Using NSF to PST Converter
Above method may not get you the desired results and cause issues while reading the emails imported via CSV file. Thus, the best-automated way to open NSF Lotus Notes emails in Outlook is by using Stellar Converter for NSF software.
This professional tool helps users to migrate all mailbox items from Lotus Notes to MS Outlook by converting NSF file to Outlook importable PST file. Plus, you can also export all the other email items in the NSF file including attachments, contacts, calendars, journals, etc., to a usable PST file with 100% data consistency and integrity.
You can also select and convert all other mailbox items or just a selected few. The tool is equipped with an easy to understand User Interface, which makes it a Do-It-Yourself (DIY) job.
What's more, is that this advanced NSF to PST converter software gives you access to features like file preview of data before conversion and the option to convert and save up to 10 items per folder for free. Besides, there are a ton of other benefits of using this tool, available in Corporate and Technician editions. So be sure to give it a try!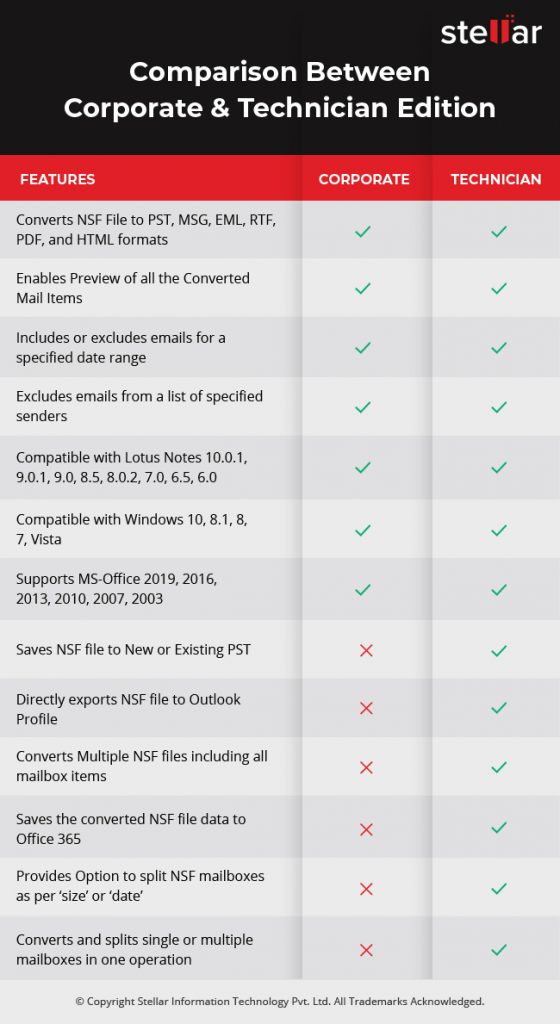 Conclusion
If you want to view or read NSF files in Outlook, you need to convert the NSF file to Outlook readable formats, such as PST or CSV. However, you may find issues while opening and reading CSV format due to integrity issues and limitations discussed in this post.
However, if you convert NSF files to PST format, you can open and read NSF files as they were in the Lotus Notes, without any issues. To convert NSF to PST, you can use Stellar Converter for NSF as there's no manual way to export NSF files to PST. Plus, it overcomes all the limitations that you face in CSV export and import when it comes to open and read NSF files in MS Outlook.