Summary: In this blog, you will learn some methods on 'how to convert OST to PST in Outlook 2019/2016/2013/2010'. In addition, you'll learn about an automated way to convert OST to PST file format, quickly and in a hassle-free manner.
Microsoft Outlook Offline data file (OST) is a replica of Exchange server mailbox folders on local machine. And so, it can only be accessed with the account that created it. But there might arise a case when you need to access OST file on a different machine via Outlook. This can be possible only by converting the OST file to PST format.
Some other situations that may require you to convert OST to PST are as follows:
• OST file has become inaccessible due to Exchange server crash.
• You need to access OST data when your mailbox account is either deleted or disabled from Exchange.
• You want to transfer OST file data to a different machine with POP3 account in Outlook.
IMPORTANT!
Try
Stellar Converter for OST
software to quicklyconvert an inaccessible or orphaned Exchange OST file to PST in few steps. It supports Batch Conversion & Repair Corrupt OST File for all MS Outlook versions: Outlook 2019, 2016, 2013, 2010, 2007, 2003, 2002, and 2000.
Before we discuss the methods to convert OST to PST in Outlook 2016 and other versions, let's first have a brief overview of Outlook Offline Data File (.ost) and Personal Folder File (.pst).
OST and PST Files – An Overview
OST files are created when Outlook is configured with IMAP/Exchange server. In the absence of a connection to Exchange server, OST files make it possible for the user to access mailbox data in offline mode. These Outlook data files are a valuable asset in case of server downtime or unreliable internet connection.
PST files are created when Outlook is configured to a POP account. A PST file can be used to archive older messages or items. It can also be used to create backups from any Outlook account. The backup can be used to restore or transfer data from Outlook in the event of hardware failure or to transfer data from one machine to another, etc.
Methods to Convert OST to PST
You can convert an OST to PST file format manually or by using a specialized OST to PST Converter tool. This can also be done in all versions of Outlook such as 2019, 2016, 2013, 2010 or earlier.
Convert OST File to PST Format Manually
Method #1: Archiving
Note: This method only allows moving emails to a PST file. You cannot move contacts by using this method.
Outlook email client provides the option to archive mailbox data to PST file. Thus, you can try moving the OST mailbox folders to PST file format. To do so, follow these steps:
Step 1: Launch MS Outlook application.
Step 2: Click File, and select Options.
Step 3: From the Outlook Options window, select Advanced, and then click AutoArchive Settings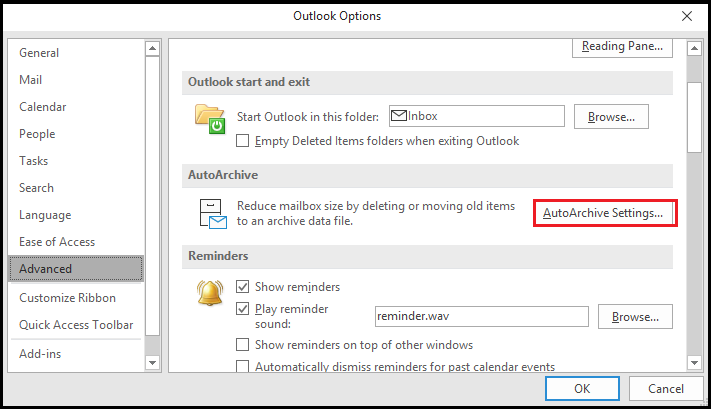 Step 4: In the AutoArchive Settings window, perform the following:
Add the number of days for which you want to run AutoArchive.
Select the period for deletion of old items.
Click Browse and select the desired location where you want to save the archived (OST) file.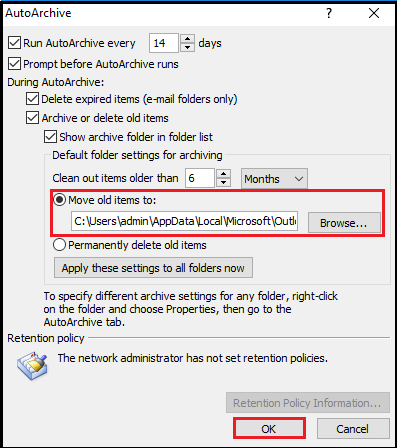 Step 5: Click OK.
The mailbox items will now get saved in PST file.
Method #2: Import/Export Wizard
Export OST data to PST file by following these steps:
Step 1: Open Microsoft Outlook 2019, 2016, 2013, 2010 or previous version.
Step 2: Navigate to the File menu, and select Import & Export.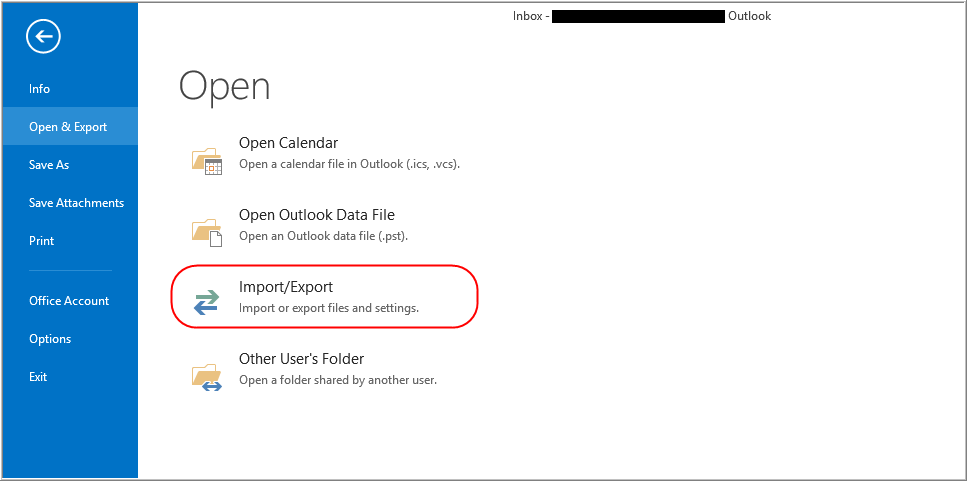 Step 3: The Import and Export Wizard is displayed. Select Export to a File.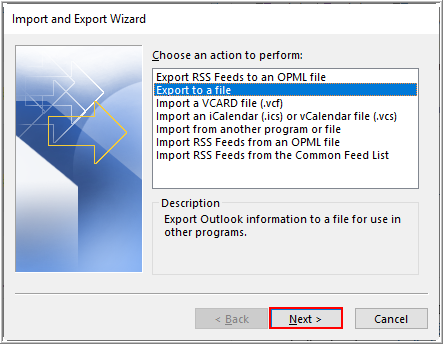 Step 4: Select Outlook data file (.pst) under 'Create a file of type:' section.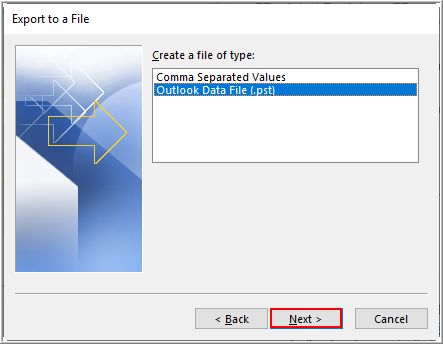 Step 5: Next, choose the files you want to export. Also, make sure to select the checkbox associated with Include subfolders.
Step 6: Browse the location where you want to save the exported data, select one of the options, and then click Finish.
NOTE:If you've used the 'export to a file' option before, then the previous folder location and the file name will appear in the 'Save exported file as' textbox. If so, make sure to assign a different file name.
Outlook will begin the export process unless you've created a new Outlook data file (.pst) or used an existing password-protected PST file.
If you wish to provide a password to. PST file, type password in the Create Outlook data file box and then click OK. The Outlook data file password box will appear, type the password and click OK. You can skip this optional step (if required).
If you're exporting the data to an existing password-protected PST file, then in the Outlook data file password dialog box, enter an appropriate password and click OK.
Now, once the mailbox data is available in PST file format, it can be transferred or moved to a new location in your computer or an external storage drive.
Method #3: Drag and Drop the Items to a New PST File
Create a new Outlook data file (.pst) for your existing Outlook profile and drag the mailbox folders you want to move to the newly created PST file. However, you cannot drag default folders such as 'Inbox', 'Contacts' and 'Calendar'. For these folders, you will need to copy them from OST file into the PST file.
The above discussed manual methods have certain limitations:

• They are time-consuming.
• They won't work if the OST file has turned inaccessible or orphaned.
• Data integrity may be at risk.
• Performing manual steps has the potential for human error.
• They do not guarantee complete conversion of OST mailbox items.
• No option to preview converted mail items.
Convert Outlook OST File to PST by using OST PST Tool
You can overcome these limitations by using an automated solution to perform the conversion. Stellar Converter for OST software is purpose-built to make OST to PST conversion a quick and hassle-free process, without data loss risk. It can help you convert inaccessible or orphaned OST file to PST.
Further, the software extracts complete mailbox data from OST file including emails, attachments, contacts, calendar entries, etc. Also, the software provides a preview of converted mail items before saving them.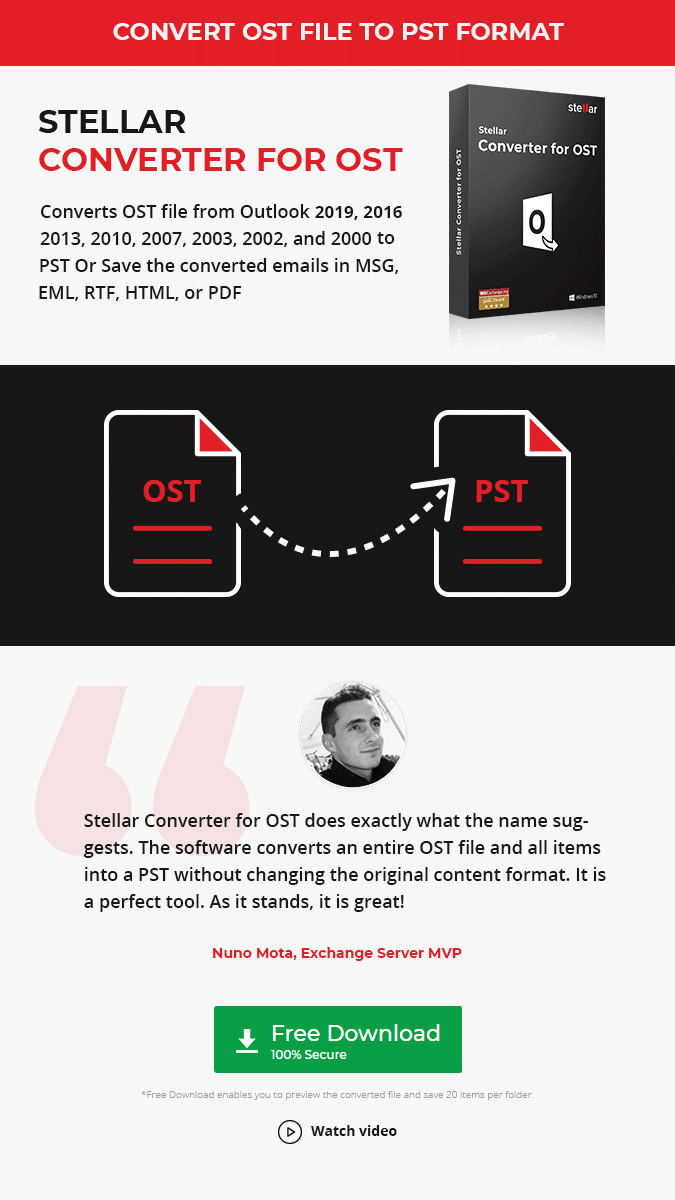 Comparison Sheet – Manual Methods vs Stellar Converter for OST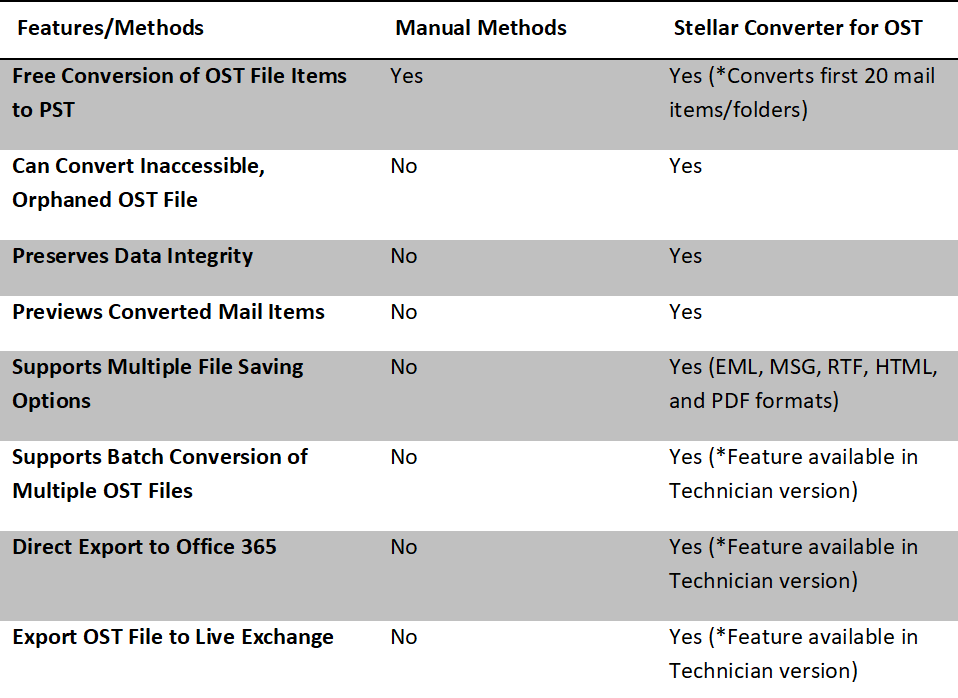 Wrapping Up
You can convert OST to PST in Outlook 2019/2016/2013/2010 and previous versions by using the manual methods discussed in this blog. However, the manual methods can be time-consuming and do not guarantee complete mailbox conversion. Also, there's always risk of data loss when performing the manual steps. So, make sure you understand the manual steps and perform them carefully. Also, create OST file backup before proceeding with the conversion process.
However, you can simplify the process of converting OST to PST and extract the entire OST file contents quickly and safely with the help of Stellar Converter for OST software.
With the help of the OST to PST converter tool, you can easily convert email messages into multiple saving formats including EML, MSG, HTML, PDF and RTF. If the OST file is corrupt or is no longer accessible – despite using the Microsoft built-in Inbox Repair Tool (ScanPST.exe) – you can use this Outlook tool to export and save data to PST from the corrupt OST file.